Section Five - A DIY guide to privacy
A story about make-up, face masks, and much more (5 minutes)
A DIY guide to privacy
In this final section, we would like to present to you a Do It Yourself Privacy Guide. Just to make you feel a little bit better at the end of this crash course.
Our guide does not contain any of the usual tips & tricks. We do not advise you to use a long password. We do not tell you to read the terms when you download an app. We don't tell you to use VPN, disposable email addresses, and so on… because we know that this is maybe a little too late and you can find these tips & tricks everywhere.
And it is hard work.
And it is boring!
Also, we have seen in the previous sections (for example, facial recognition) that more and more often your privacy is invaded and your data is collected without you giving permission or without you even knowing.
That's why we've rounded up the funnier, more creative ways to safeguard your privacy here. If privacy is so important, we had better make it a little fun too.
You can just read all our tips & tricks below. If you want to know more or maybe even buy one of the products, please visit the section with the additional materials (section six). We have all the links and information there.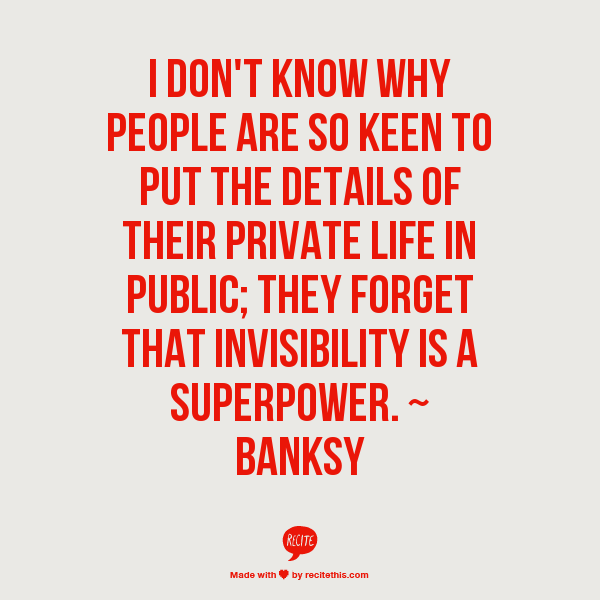 Fight facial recognition
One of the major privacy concerns is facial recognition. This technique is developing very quickly and systems are being developed everywhere. These systems are getting better really quickly. Even your phone recognises you now! It is getting more and more difficult to avoid these systems. Luckily, there are tons of people who come up with ways to fool the facial recognition software.
We will show you some examples below.
Let's start in Japan. There, people developed a way to not be recognised, namely the Privacy Visor. These are glasses with special lights. If you wear these glasses, the facial recognition systems get confused and they do not recognise you anymore. Very weird, a bit cool, and very effective.
(Image by PC World)
If you don't want your face to be tagged on Facebook or any other social media platform, we recommend the Glamouflage. This is clothing with celebrity faces on it, which confuses Facebook's and Instagram's systems. The example below makes Facebook tagging go wild, because Michael Jackson and Barack Obama are together in one photo! And yes, you are right, the product is a bit older, because Michael is no longer with us, but new variants with new celebrities are available.
(Image by Glamouflage)
Clearview.ai is a company that scrapes pictures from the internet to train facial recognition systems.Now you have a problem, You want your pictures to look good online, but you do not want to be in the Clearview database. Luckily there is Fawkes, a filter that makes you look good and makes your picture unfit for training a recognition system.
Faces are not only recognised but also categorised. What is your emotion? Are you a smiley? Or a frowney? This brilliant game, emojify.info helps you to smile like you mean it.
This tool bij Tijmen Schep (Are You You?) helps you to make faces and find out if you can learn how to fool facial recognition systems.

Or how about the work of Leo Selvaggio of URME (You Are Me) Surveillance. He made a mask of himself, which fools facial recognition systems. All systems recognise Leo everywhere. It is a bit creepy, but not nearly as creepy as the way these systems are increasingly used. Leo is probably the most 'recognised' man by facial recognition systems all over the world.
(Image by Leo Selvaggio)
Next is Adam Harvey, an artist who has another solution. He invents new, trendy ways to do people's makeup and hair, in a way that completely upsets the facial recognition software. You look cool and no software will recognise you!
(Image: Adam Harvey)
And then there is of course the Pixelhead Balaclava from Adafruit. A way to mix online and offline while becoming unrecognisable.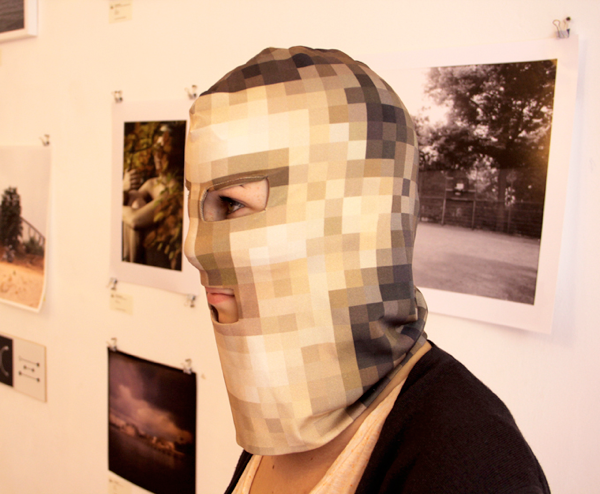 (Image from Adafruit)
Finally, in corona times, there is a special facemask that confuses facial recognition software. The software thinks the facemask is your face.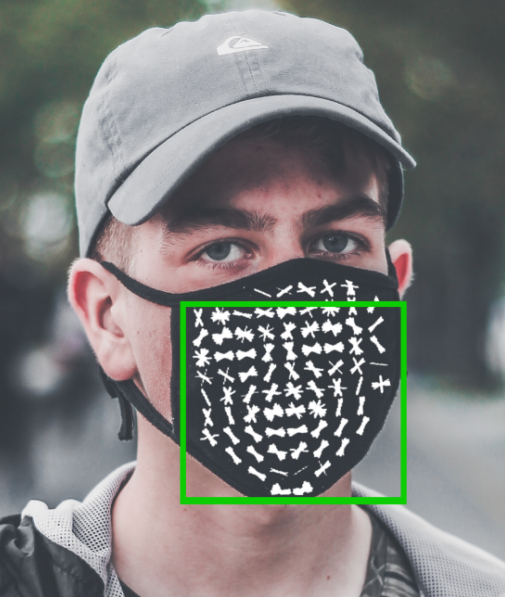 (Image: Unknown)
No photographs please!
The ISHU is a scarve, made from highly reflective fabric, a camera's flash makes it light up to a brilliant white, darkening the rest of the image almost into oblivion.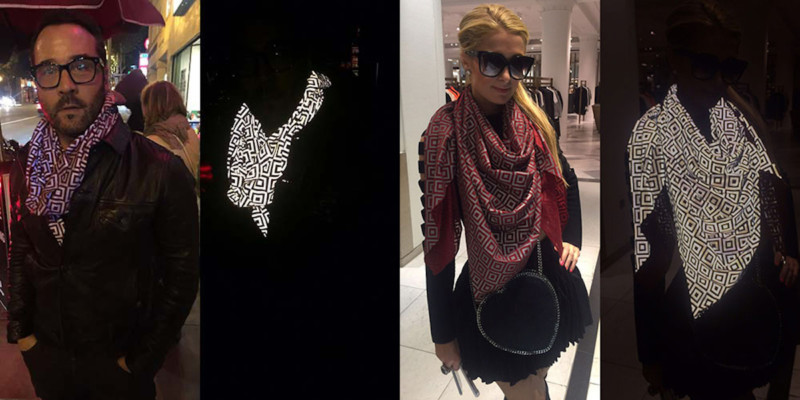 (Picture from PetaPixel)
Anonymity Online
If you want to be anonymous on social media you can easily create a fake account. Although that is also getting more and more complicated. Or you don't use social media (even less easy). But there is a better and more subtle way to safeguard your privacy on the social media platforms. Benjamin Grosser's Go Rando project is such a subtle solution.
We all know that Facebook – based on your likes and emoticons – gets to know you quickly. Go Rando is a plugin that you install in your browser and every time you click on an "emoticon." An emotion is randomly selected and posted. In this way, noise is created, which confuses the artificial intelligence of Facebook, for you. If everyone uses it, everyone gets confused.
Firefox has a website TrackThis.link where you can choose from 4 profiles ((hypebeast, filthy rich, influencer, doomsday) and then 100 large websites are filled with misleading cookies
FitBit - Cheat
And then of course there are ways to confuse the people at Fitbit (2 minute video).
.
Tijmen Schep
Finally, for our DIY guide, we encourage you to check the work of Tijmen Schep. He is an artist and technology and privacy critic and has made some thought-provoking art. For example, Candle, a privacy-friendly smart home system and How-Normal-Am-I in which I learned that I am more beautiful than 20% of the Spice Girls. Go check yourself. See, the additional materials for the weblinks.
Take aways from section five
Sometimes you need to take extreme measures to protect your privacy;
That, in itself, is a worrying development.
Some final words on crash course three
Congratulations! You have completed this crash course, so you got a very small taste of thinking about technology and privacy and data protection. This was just an appetizer. If you are going to assess, design, program, discuss, use or invent a technology we would like you to remember that:
Privacy is a fundamental right;
Privacy is more than data protection;
Privacy can only be invaded under certain conditions;
Data protection in Europe is subject to the GDPR;
Privacy by Design strategies help you design or assess technology;
If technology gets better, privacy worries also grow;
Facial recognition, interpreting emotions with AI, mind reading all underline the importance of privacy;
Securing your privacy more and more requires extreme measures.
And remember: you do have something to hide.
Want more?
This was a crash course. It only took you one hour to complete. If you want more, we have some suggestions:
First, you can check out section six, with all kinds of additional materials. Section six is updated regularly;
Second, you can do one of the other ten crash courses;
Third, you can start using the Technology Impact Cycle Tool, especially the questions regarding Impact on society;
Fourth, you can check out our example cases, for example on privacy and Corona Contact Tracing App.
Finally, if you have any suggestions or remarks on this course? Let us know at info@tict.io