Section Two - The attention economy
A story about bloodthirsty men from the moon (16 minutes)
Could I interest you in anything all of the time? Apathy is a tragedy and boredom is a crime - Bo Burnham on Inside.

In section one we promised you that we are going to look at the impact of (some) modern new technologies on two human values. Before we talk about these modern technologies in section three and four, we will first take a look at the underlying business model: the attention merchant.
Attention merchants
Let's start with this short video of Tim Wu (2 minutes) who coined the term 'attention merchant' in his great book.

Okay, so an attention merchant tries to grab your attention and sell it to someone else. For example to someone that wants to sell a product or an idea. This is a very important concept.
You can pay attention to your work, your family, sports, theater, books, voluntary work, music.
Or, it can be your timeline on Instagram or TikTok.
You are what you pay attention to.
It is very important to make a clear distinction between the attention merchant's business model and other parties who also fight for your attention! For example: Facebook is an attention merchant. They offer a product "free" and your attention is then sold to someone else (usually someone who wants to sell something). Netflix also wants your attention, but is not an attention merchant. After all, you pay a fixed amount per month, and for that you get content (films and series).
The distinction between attention merchants and other organisations that want your attention is not always crystal clear. After all, when you pay for the cinema, you still get commercials. And maybe Netflix also does some product placement. They do smoke a lot on Peaky Blinders!
Still, it is important to try and understand the main underlying business model. There is a big difference. Apple, for example, is for the most part not an attention merchant. They sell expensive devices. They can afford a privacy friendly operating system. Google's Android however is very much an attention merchant. That is always good to know if you want to buy a phone (and can afford some privacy).
The underlying business model is the reason that Apple can make privacy a unique selling point. They also like to advertise that (even if it is not exactly true).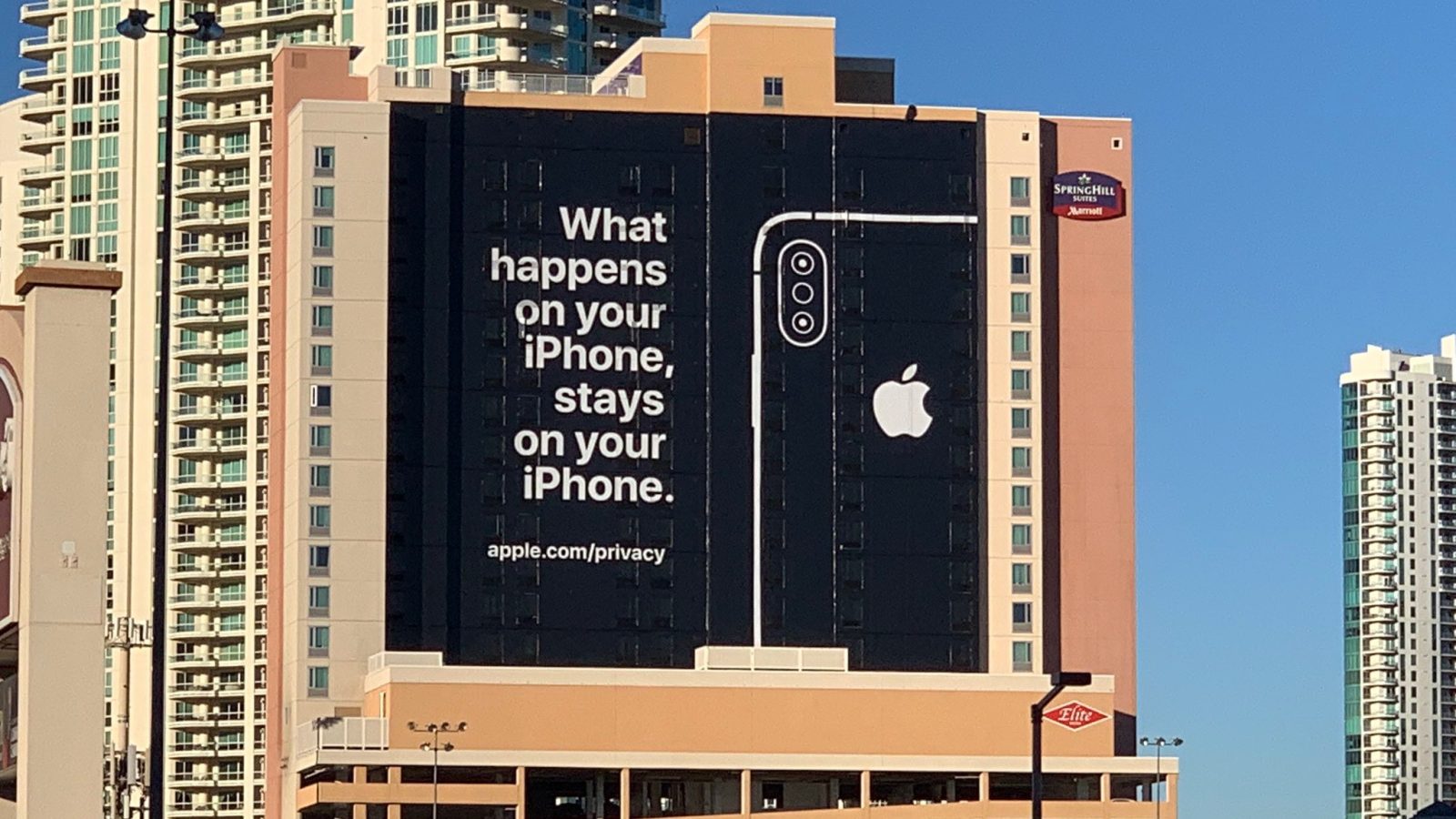 (advertisement during CES in Las Vegas)
Technology makes it a lot easier to become very good at being an attention merchant.This is because of two reasons.
First attention merchants collect data about you, they get to know you and that makes it easier to grab your attention and sell it to someone else.
Second, there is continuous feedback. Every time you try to grab attention you can get immediate feedback on whether it is working or not. This is the way so-called clickbait is designed.
Quick Question: Top 8 Reasons Why Clickbait Sucks (No. 5 Will Surprise You!).
Did you want to click?
The main issue is that every time your attention is grabbed, it does something to your human values. It does something to your ability to make conscious choices (autonomy) but also to your mental health and happiness.
Let's look at some examples.
The Race to the Bottom
In his book Tim Wu talks about the first attention merchant: Benjamin Day. He filled his newspaper (The New York Sun) with spectacular news, because he knew it would draw attention. It started with crime, but soon he invented stories about aggressive, sex-hungry creatures that lived on the moon. See the video below for some really old fake news (4 minutes, but you get the idea after two minutes):
Benjamin Day quickly learned that it was not easy to grab someone's attention over and over again. For that, the news had to become more and more spectacular. This is called the race to the bottom. We get used to spectacular news, so we want even more spectacular news. This mechanism created shock radio. And, on TV. Jerry Springer was a talk show host that became popular with guests like the Kung Fu Hilbillies and men that were married to their horses.
Internet and social media added another dimension to the race to the bottom. This is because newspapers like The New York Sun had a problem. People eventually understood that there were no bloodthirsty men on the moon. This made The Sun appear unreliable, making it harder to sell real crime. In the end, people get saturated with shock TV, so programmes like Jerry Springer loose 'their magic.'
On the internet however there are platforms (like Facebook and YouTube) that only show news items, but are not responsible for the content. An untrue story on Facebook does not discredit other stories on the platform. Also these platforms are also able to continously measure which content will draw people's attention. There is clickbait everywhere. For example, a popular storie is: Eight Cats That Look Like Hitler (Kitler!).
On YouTube the recommended video function will often provide you with a new suggestion that is a bit more spectacular.
Videos on dieting lead to anorexia.
Videos on 9/11 to conspiracy theories.
Videos on men walking the moon to UFOs and so on.
Fake News is adding a new dimension to the race to the bottom. More on Fake News in our crash course on bad actors.
The biggest problem with this is that the information that is presented to us also shapes our opinion. This can have very serious consequences. Imagine you are obsessed by black-on-white-crime and you search for this on Google. You might not see official statistics but inflammatory sites, because of the way the attention grabbing algorithm works. This confirms your impression and that sometimes has actual, tragic consequences in the real world. It is not Google's intention, but a result of optimizing to keep attention and to sell things.
The race to the bottom shapes our opinion. We might think things are worse than they are. More dangerous. More black and white. And so on.
Exercise
Let's do an exercise.
First download this Powerpoint Template (CC2_Exercise_Better_YouTube.pptx) with an empty canvas on YouTube. Use a search engine (our suggestion: DuckDuckGo) to fill out the canvas. In doing so you will gain insight into the way YouTube works, tits problems and also you will get some first ideas about the possibilities of building a better YouTube. A YouTube that has your values at core and not the values of the technology company.
You can find our answer (CC2_Exercise_YouTube_Answer.pptx) here.

Suggestion: For a comprehensive answer we suggest this PDF on Organising for a better YouTube.
Polarisation
Attention merchants want your attention. The first trick, we saw above, is to provide you with information that is more and more spectacular, often fake and always just a little bit higher in your emotion. Just a little sharper, a bit more black and white and just a little more sensational. The race to the bottom. The problem is that this shapes our opinion, which also might be less nuanced.
A second way to get your attention is to provide you with information that confirms your opinion. Confirming your opinion always feel good. The so-called Filter Bubbles. Or Echo Chambers. Check this 3 minute video for an explanation.
Filter Bubble is a term coined by Eli Pariser and it means that you are profiled and always see information & opinions from your own circle. This is a different situation from the old division into different social groups. The bubbles change all the time and you can choose the bubbles you want. Information that confirms what you think, information that strengthens polarization. On the other hand, there are plenty of studies that indicate that, despite the filter bubbles, people online may get more access to different opinions than before.
What You See is All There is!
In a time before internet, if a bus driver in (for example) the Dutch city of Lemmer was beaten by a passenger we would probably never know. It may have been an item in the local newspaper, but in other parts of the Netherlands nobody reads that local newspaper. Today you will receive the video on your social media channels in no time. You click, you look, and you think: the world is getting more brutal! Despite the fact that maybe you never actually experienced anything 'brutal' in recent times.
This symptom is called, what you see is all there is, and was researched by Daniel Kahneman. Here is a short video explaining it (3 minutes):
Think about it: if you hear a lot about shark attacks somewhere in the world, the chance of a shark attack will not increase, but if you are on a holiday, the chance that you will swim around quite uncomfortably will increase! This is happening on a large scale.
Symptoms not problems
We have discussed three issues that are connected to the business model of the attention merchant:
Race to the bottom
Polarization / filter bubbles
What you see is all there is.
There are far more issues connected to the business model of the attention merchant. Take Facebook for example. There's Cambridge Analytics, privacy,increasing suicides at a young age, Myanmar, extremism, influencing of elections, and so on. It is important to understand that these are not problems but symptoms.
It is also important to know that the attention merchant is amoral. The attention merchant is only interested in time spent on their platforms. More time means more data and more money! The attention merchant does not care about time well spent. The attention merchant knows that making you dependent and insecure, playing on your fears and need for control will help grab your attention. So, the attention merchant will do all those things.

And you know what is really troublesome? There is growing evidence that ad-tech just don't work. What if the race to the bottom, the polarization and so on, are negative consequences of a technique that doesn't work at all. What if the major social media companies say they can show very specific advertisements to specific target groups, but that is actually not true? What if it is an enormous hoax? How sad would that be? (see section 6 additional materials).
The essence is – ultimately – that the values of the attention merchant are central to the design of the technology. It is not about your human values. It is about their values.
But what does this all mean for our chosen human values: autonomy & happiness?
Autonomy
Earlier we stated that you are what you divide your attention to. Will you give your scarce attention to work, or family, or sports, or movies, and so on? Or, are you manipulated by technology companies in giving your attention to them? To your Facebook Feed or your Instagram Timeline or infinite TikToks?
The choice is yours. Or not?
Do you really choose to pay attention to the social media platforms or are you being manipulated? And if you are manipulated, what does that mean for your freedom of choice? For your autonomy? And - ultimately - for who you are? Given the massive use of our screens, it is not a strange idea at all that our autonomy is being affected by the technology companies. But is it worse than before when we all watched TV?
That's the subject of section four: addiction to technology.
In addition, we have shown above that the information presented to us also shapes our opinion. If that information is primarily in the interest of the attention merchant, does his interest also determine what we think? And what does that mean for our autonomy? Can the attention merchant direct our thoughts?
That is the subject of section three.
Happiness
There is a lot of happiness, joy and funny cat movies on the platforms of the attention merchants. There is also not a lot of data evidence that people, in general, have become less happy since the introduction of social media, apps and smartphones. However, there are more suicides, especially among youth. However there are more suicides, especially under youth.
On the other hand, the attention merchant knows that playing to our insecurity and anxiety is a great way to have people spend more time on the platforms. Social media often are enormous comparison machines, and comparing yourselves to others (especially others that are faking a perfect life) make you unhappy.
Check this short video (45 seconds) from the light phone people:
There are many studies showing that social media makes people unhappy. There are also many studies that claim the opposite and studies that actually show no effect. It is not yet clear and what is true for one group does not have to be true for you!
In section six, with the additional material, we've included some references to this discussion! Still, you could say that if you spend a lot of time with the attention merchant's platform on your screen then your chances of happiness will not increase.
Finally, in the documentary The Social Dilemma (see section six) it is explained that social media, and the underlying business of the attention merchant, adds to polarization in society and - eventually - crumbling democracies. So, even if you are not using social media or use it wisely, you are still part of a social fabric that does not.
Take aways from section two:
Attention merchants have been around for a long time;
The business model of the attention merchant is to grab your attention and sell it to someone else;
The business model is not new, but technology has opened new and sometimes dangerous possibilities;
There are a lot of potential negative effects on your human values (autonomy - happiness);
Ultimately the core values on the platforms of the of the attention merchants are not your core values;
You are what you give your attention to;
So, if you use a technology, understanding and recognizing the underlying values and business model is key.